Edubook AG
Digital book printing
Software for book printing: Even print run of one can be profitable
What adjustments need to be made in order to produce short runs efficiently?
Swiss digital printer Edubook has been a book-on-demand producer since 2004, specializing in short runs with high variety and customization. Customer demand for even shorter delivery times as well as increasing margin pressure led Edubook to OneVision. Together with an automation expert, a workflow was implemented that not only impositions automatically with a book imposition software, but also makes entire production processes run smoothly and thus highly efficiently.
For several years, Edubook has identified the main trend: the number of highly customized, short-run jobs is increasing, while at the same time the need to produce print quickly and cost-effectively is growing. To successfully meet these challenges, automation is needed from order entry, file checking and proofing, to PDF imposition, printing, and finishing. With OneVision's Book Automation Suite, the digital printing specialist achieves:
Reliable and smooth communication of various systems through connection to webshop/ERP system and all production machines
Enormous time savings thanks to automated file checking and error correction
Resource-saving production thanks to intelligent PDF impositioning
Increased throughput thanks to automated workflow
More profitability thanks to leaner processes
Software for book printing – automation even for print run 1
The print service provider produces a total of 600,000 perfect bindings per year. In addition to high-quality books with soft covers, offset-quality catalogs and brochures, the company also produces manuals, folder contents, and much more. With the Book Automation Suite from OneVision, manual operations in the production process are reduced to a minimum.
PDF imposition software – optimally prepared for printing in seconds.
Book Automation Suite ensures automatic selection/adjustment of imposition templates based on the page format of the PDF, including barcodes and text information.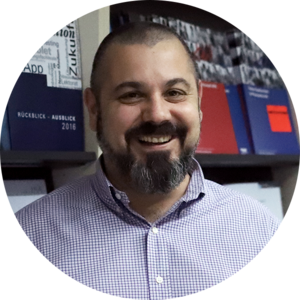 "We have 50% more orders in house compared to before, but still with the same staff."
Sergio Nobile, CEO Edubook AG
Generate bleed - without manual intervention
The software checks the print file using the trim box or any other trim line. The necessary bleed is intelligently generated automatically by pixel mirroring or pixel stretching.
More about bleed printing
Integration to existing systems
The print service provider uses a variety of hardware for short-run production. In addition to digital presses from Ricoh, inkjet web presses from Canon, and gluing and cutting equipment from Tecnau and Hunkeler are used for finishing. As XML-based software for book printing, the flexible Book Automation Suite can be easily integrated into the existing system landscape. The result: no manual intervention, greater efficiency, increased throughput!
More about connectivity/integration