Meeting high demands with high-performance preflight software
High cost and deadline pressure in combination with ever-shrinking print runs – at the latest when the print file is submitted, the clock is ticking. With OneVision's preflight software, our customers ensure that further production processes can be completed without disruptions. The print file can be checked for up to 130 different criteria (format, color, resolution of logos and images, transparencies, etc.) and result in a preflight PDF including error report. Many errors are automatically corrected and a print-ready file is created.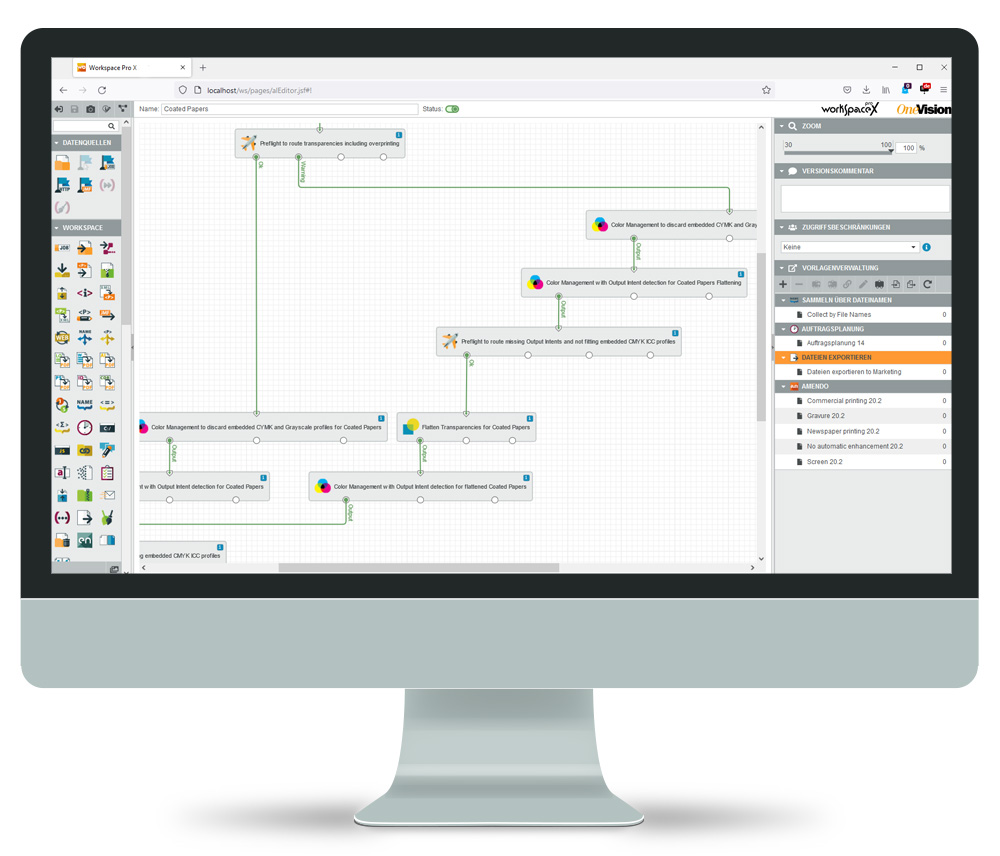 The benefits of preflight software from OneVision
The fully automated preflight for your decisive competitive advantage:
Up to 130 different errors are detected automatically
File errors are identified immediately → for prompt repair
Preflight report: all error messages are visualized in an extra file
Configuration according to individual production specifications
Consistently high quality standards
Preflight software and metadata for your PDF workflow
The basis for a trouble-free printing process is a normalized file. This is generated by a quality check called preflight and, if necessary, supplemented by subsequent measures (the respective corresponding modules such as flattening transparencies, color management or generating bleed) to correct errors immediately.
What is metadata and why is it important?
Metadata are properties that describe a file. They can either be supplied in a separate file (xml job ticket) or be in the production file itself (file properties). In addition, properties that are not immediately obvious can be found with a preflight.
Preflight uses metadata to dynamically compare file properties with the job data and, in addition, the preflight results are used as metadata. This means that, on the one hand, the print file is checked to see whether it meets the job requirements (such as format or number of pages) and, on the other hand, the necessary modules are run through immediately if corrections are required. For example, the preflight can be used to determine a PDF file with spot colors or coating, which is then sent to the appropriate press. Preflight is therefore a key component and the basis for intelligent workflow control.
In the video, you can see how an intelligent workflow meets the requirements of different print files using sample data. Within 40 seconds, not only is the preflight of all files successfully performed, but also corrections are implemented and additional relevant files are generated for further production. Of course, this includes a preflight report.
Benefit from the preflight software as a basis for smooth production processes and permanently increase your quality and service standards.
"The exception to the rule is the OneVision Asura prepress software. It does not rely on the APPE, but brings its own PDF engine on the Workspace server. Since version 18 (2018), it is the first complete workflow solution that can perform PDF normalization in PDF 2.0 and generate a full PDF/X-6 print document."
Dieter Kleeberg, PDF 2.0 and PDF/X-6 - What are the benefits of the new PDF standards?, Whitepaper, Bundesverband Druck und Medien e.V. (bvdm), Berlin 2022