Digital printing photo products
posterXXL
PDF Workflow automation despite a wide range of products
How do you organize heterogeneous workflows with 15,000 daily print jobs?
As one of Germany's leading providers of photo services, the Munich-based online print shop posterXXL has been producing photo service in digital printing since 2004. With around 60 different products and formats, the online print service provider offers a particularly wide product variety. In order to ensure competitiveness, quality and, above all, the promised ability to deliver, workflow automation is needed. OneVision has taken on this challenge.
posterXXL's software and pdf workflow automation requirements were as diverse as you would expect from an online print service provider with such a product variety and mass of different print products as well as printable materials. With the Wide Format Automation Suite from OneVision, the company now ensures these benefits, among others:
Production on time
Exact job sorting and maximum material utilization
Significant increase in throughput
Reduction of file sizes
Easy control through user-friendly interface
With over 60 different online articles processes are diverse
posterXXL offers different printing processes on a wide range of materials: The Bavarian company produces on plates and on rolls, i.e., in addition to hard foam/PVC plates or aluminum dibond plates, various foils or photo and picture printing papers are also used. The workflow automation software has to play all the tricks from simple sequences to complex process chains with more than 20 test procedures. With OneVision's extremely flexible Wide Format Automation Suite, this is not a problem.
PDF workflow automation is good – but not without manual intervention
PDF workflow automation saves one thing above all: time! In some cases, files go through up to 28 steps before they are ready for printing. From data transfer, to converting to appropriate file types, to the perfectly print-ready file – the entire process is handled by the software. Nevertheless, from time to time it is important to be able to intervene manually in the planning process if necessary; this is also possible with the Automation Suite.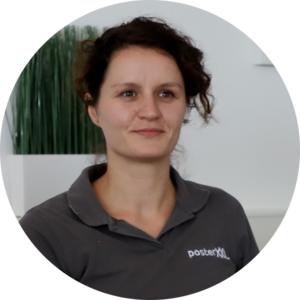 "All products have different production times – managing and timing them is the crux. And that's exactly what we are doing now much better with OneVision."
Susanne Feller, Production Manager at posterXXL
Nesting – Who decides when
After formatting and sorting the individual print files, the pdf workflow automation software determines how the individual print products are arranged on the print sheet via nesting. At posterXXL, the time aspect is an additional important component: When is the software allowed to do a nesting, when does it still have to wait for additional artwork, and how can there be as little waste as possible?
More about nesting software/gang run printing
Bleed printing automatically – without a mouse click
The OneVision software creates the print file based on the trim box or other existing trim lines. If a bleed is necessary, it is intelligently generated automatically by pixel mirroring or pixel stretching. Without another mouse click. More details about bleed printing
Integration to existing systems
posterXXL works primarily with the wide format web printer DesignJets from HP and the Arizona from Canon. In addition, printing presses from Mimaki (JV300) or HP (Latex) are used. For postpress, the Wide Format Automation Suite creates files explicitly tailored to the postpress systems (such as ProCut from Zünd/Océ). This means that postpress systems do not get bogged down and a fast pdf workflow is guaranteed.
More about connectivity/integration